The Traditional Liqueurs of the Aggazzotti family
Not only Vinegars; Aggazzotti0s family continues from century the production of the historical spirits of Modena: Nocino (walnut infusion), Laurin0 (bay leaf infusion), Brandy and Grappa.
More than 1.500 wulnut trees, an ancient recipe and time are  the secret ingredients of the Aggazzotti's Nocino. 
Nocino is a tonic and digestive liqueur, with a bitter but pleasant and aromatic taste. The scent is distinctive, strong and unmistakable, the color is a naturally clear dark brown.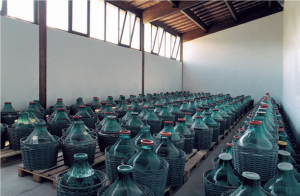 This is a legendary reserve which takes its name from the particullary successful harvest of 1989. It is produces from the hulls of young walnuts harvested in June1989, mixed with alcohol and aged first in glass demijohns and subsequently in steel vats. Of the 3.750 litres of Nocino produces, inly 350 are bottled every year.
Nocino "Notte di San Giovanni"
Our "Notte di S. Giovanni Reserve" Nocino is obtained from an infusion of young walnuthulls, hand-picked exclusively from indigenous varieties of plant grown in our estate in Formigine (Modena).
The "balsamic time" for harvesting is around the 24th June, the feast day of Saint John the Baptist (naturally harvest time varies depending on the weather). The soft green hulls are added to alcohol and placed in glass demijohns to age for around a year so that, thanks to sunlight only, the liqueur can gradually acquire its typical dark amber colour. Next the product is decanted into stainless steel vats, where sugar and flavourings (only cinnamon and cloves) are added, and the ageing process is allowed to continue.
Azienda Agricola Aggazzotti Dr Pietro SRL P.IVA 01728400365